Our Staff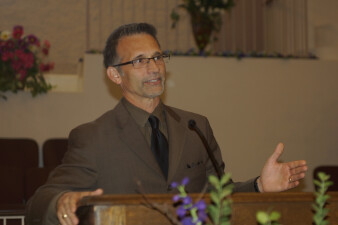 Pastor Doug Moorman took over Senior Pastor of Hampshire View Baptist Church in December of 2015. Before that, he was our Associate Pastor for 24 years, enjoying the opportunity to work alongside of his father, Glenn Moorman.
He and Terri just celebrated 30 years of marriage and have had the privilege of raising 8 children to serve the Lord.
Some of the verses that have influenced Pastor the most:
Proverbs 3:5-6:
Trust in the Lord with all thine heart; and lean not unto thine own understanding. In all thy ways acknowledge him, and he shall direct thy paths.


Brother Simeon grew up as a Pastor's son in the Philippines. Around thirty years ago the Lord found him and saved him. Since that time, he has served in the music ministry. He sees this as an opportunity to use music to glorify the Lord.
He and his family love to sing in church, in the car, at home, and wherever God leads them.
One of his favorite verses:
Ephesians 5:19:
Speaking to yourselves in psalms and hymns and spiritual songs, singing and making melody in your heart to the Lord;